The Do's & Don'ts of Bulk SMS Marketing for Your Business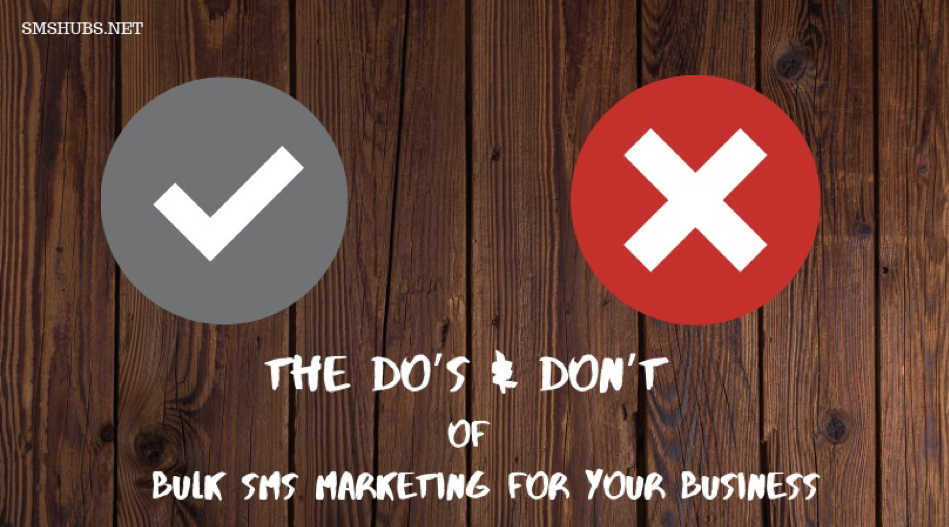 Bulk SMS marketing is a perfect business strategy, to communicate with your customers/audience in a fast, efficient and inexpensive way. Text Message services are important elements that can aid your business to effectively source, retain and nurture customer relationships with the people that loyal and support your brand. Hence, there are many website owners or developers and business entrepreneurs' out there that will use SMS online blast services in today's business world.
Using the bulk SMS online service can definitely increase engagements between customers and enhance your business brand experiences and exposures. However, it is crucial to understand how to use this bulk SMS platform correctly in order to attain the most effective mobile marketing strategies.
DO's
1.Call-to-Action
Call-to-action is a lead signal for a bulk SMS marketing, whereas it can convert visitors into buyers. When recipients receive an SMS, do ensure that the message content provides a clear instructions and details on what should the recipients do such as call, text or reply Yes if they are interested with your offered products, services or appointment confirmation.
Not only this, it can help you to boost your sales and get exposure of your product and services to potential customers by sending SMS notification to remind or notify your recipients with the latest products or services offered by your business branding.
2.Being Direct
Sending text messages by keeping it short and simple is crucial. Do ensure that it's straight to the point and let your audience know clearly on what's your business products or services text message marketing are offering about. Such as informing them with your business new products arrive, free samples to grab or monthly or annually promotions.
By doing so, it also reduces misunderstanding and help to avoid misconception or misunderstanding. To add, with a limited characters space length of 160 characters per SMS, it is another reason of why you should ensure your message is straightforward to achieve your business marketing targets and goals.
3.Treat Your Customers Feel Like VIPs
When your potential customers allow you to contact them through SMS, it means that they have given you the permission to market and advertise them with your business products or services offering.
An SMS is a private communication channel as you need to attain their phone number and permission to reach them directly. Therefore, they expect to feel special and valued. Reward their loyalty by making them feel like a part of an exclusive VIP club – offer them value, special offers, exclusive discounts, etc. that aren't available elsewhere by using SMS for your business marketing campaign to increase sales and achieved your business targets and goals.
With SMShubs.net best communication APIs for SMS, sending out valuable information to your recipients, whether it's for personalized text message context or sending SMS notification for SMS verification code / SMS OTP code with SMShubs.net SMS API gateway.
Don'ts
1.Don't Send Abbreviations and Jargon Text
Due to limited characters space length of 160 characters per SMS, many companies tend to send text messages in slang and abbreviations. Please take note that, not everyone will understand text messages that are spelled in abbreviations or slang. Unprofessional language context can harm the perception of a company brand. Hence, if your audience has no idea with what your text messages is about, they will simply ignore the message, or even worse decided to unsubscribe it.
2.Don't Send SMS in Inappropriate Timing
Timing is everything and sending text messages at the right time is important. Using bulk SMS online marketing is the fastest and effective way to reach your customers; because not only that it is very personal but it can land directly into customers' hand at any time. However, an SMS marketing is never welcome to be sent or blast out in the early morning and late night. The reason is simply because that within this timing, your recipients might be in between of a rush hour or rest hour, which their attention is not on their mobile phone when your text messages reached to their mobile phone.
SMShubs.net bulk SMS service gateway provider bulk sending time is from 8AM to 7PM. It is advised to send out the text message at the optimal time to achieve your business marketing campaign targets and goals.
3.Don't Harass Your Customers
The timing is important, but frequency is equally important too. Try not to send out your marketing SMS too frequently with almost similar of content or else it will annoy your recipients. If you really need to let your recipient notice on your business products or services, try to send distinct types of text messages like notification SMS, SMS reminder, promotional or transactional SMS and other instead of keep sending marketing sales text messages to your recipients.
SMS services are meant to enhance your business and customer engagement, practicing good bulk SMS online marketing campaign for your business is crucial to achieve your business targets and goals and to retain more loyal customers. Therefore, understanding the do's and don'ts of bulk SMS marketing practices do help to improve your marketing campaign and increase your business advertisement marketing effectiveness.